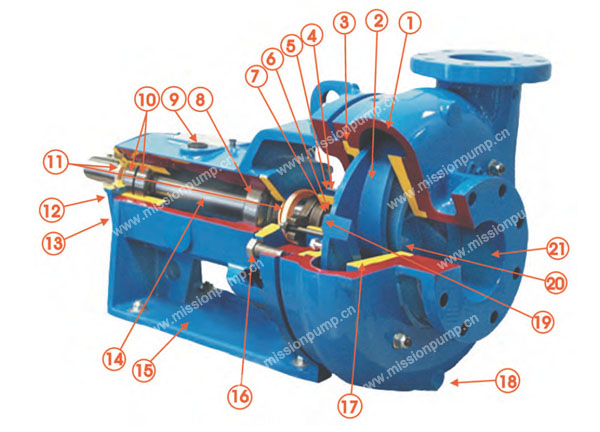 2500 Supreme Features
1. Thick,strong concentric casing with replaceable casing wear pad provides extended life over conentional volute designs.The concentric design minimizes turbulence and abrasive wear.The wear pad allows the casing to be repaired at a lower cost than replaceing the entire casing.
2. Wide semi open impeller creates lower axial thrust reduces the concentration of solids behind the impeller extending the life of the mechanical seal or packing and stuffing box.
3. Casing gasket recessed for protection.
4. Replaceable stuffing-box cover with dual stuffing box bolts.
5. Optional stuffing-boxes available for single and doublel mechanical seal applications and can be configured for flush lines.
6. Long-life no-adjustment mechanical seal available for near zero leakage.
7. Replaceable shaft sleeve prevents shaft wear.
8. Single row roller bearings for increased bearing life.
9. Oil lubrication for bearings available upon request and recommended for pump speeds in excess of 2400 RPM.
10. Duples angular contact bearings eliminate shaft end play and increased bearing and seal life.
11. Labyrinth seals for maximum bearing protection are standard. Lip seals are recommended for oil-lubricated pumps.
12. Optional flanged bearing houusing available for hydraulic drive.
13. External adjustment of impeller clearance extends pump performance life.
14. Large heavy-duty shaft reduces deflection for longer life of packing and mechanical seals.
15. Solid base offering rigidity and strength.
16. Casing jack bolts simplify casing removal.
17. Replaceable casing wear pad.
18. Easy accessible front access drain.
19. Back vanes reduce collection of solids at stuffing box and reduce box pressure.
20. Smooth impeller eye for minimum turbulence and higher efficiency.
21. Full pipe diameter entrance for minimum turbulence and maximum efficiency.
Download: Mission Pumps Catalog (pdf files)